Feeding Time on the Farm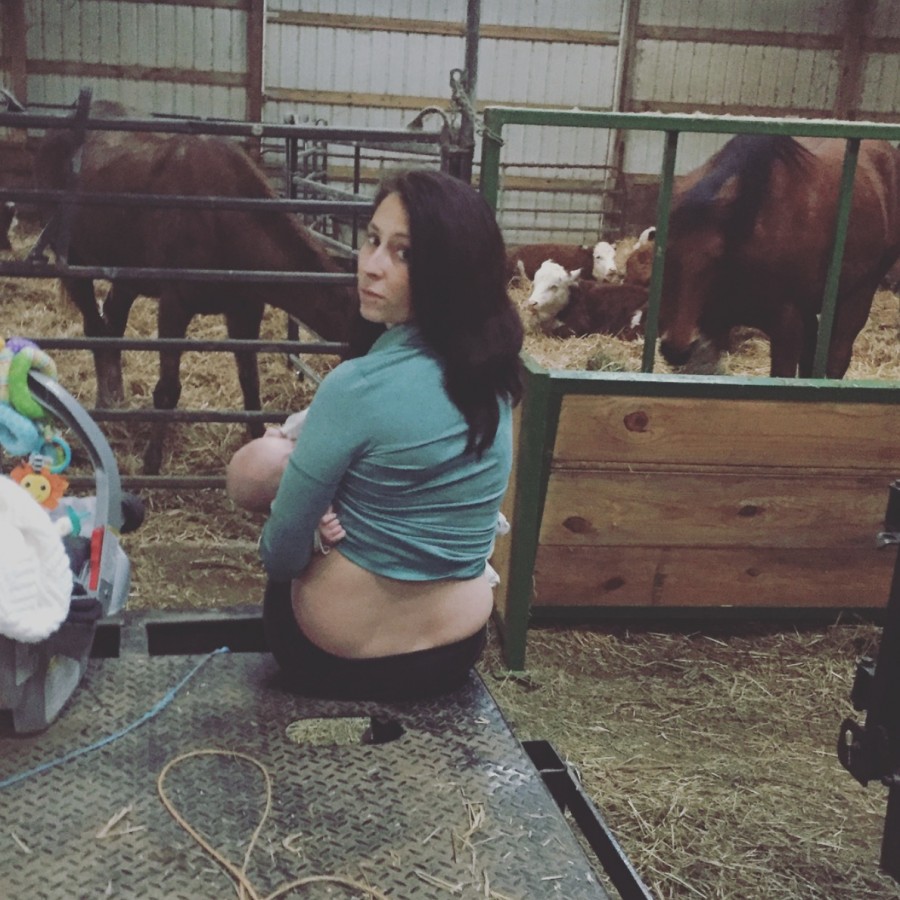 Feeding Time on the Farm
Last week I was feeding at the rented farm with both kids in tow like usual and my 2 month old son was hungry in the middle of me putting more straw down for the calves. I tried to do the old binkies trick and just keep him happy so I could finish up but it wasn't happening so I had to feed him right there. A woman has to do what she has to do be that throwing hay bales or breastfeeding. My three year old was running all over the barn so to get him to stay within my sight I put him up on the wagon I was sitting on and he promptly started playing with my cell phone. I thought he was probably watching trains on YouTube like normal but when I started hearing camera noises I realized he was actually taking pictures.
When I got my phone back I saw the picture of me feeding my two month old, Rhett, on the hay wagon. My love handles were hanging out in the back and I am scowling while whipping around to tell my three year old, Lane, to stop taking pictures. Then in the front the calves and horses were getting their own little peep show. Not exactly those angelic / ethereal looking photos you are used to seeing on mommy blogs. I was about to delete them and ensure they never ended up on my work cloud when I gave it a second thought.
To get feedback on how it might be received I posted it in the women in Ag group on facebook and asked if they thought it would be appropriate to share on our business page. Over 3000 ladies from across the globe told me to go ahead and share and provided lots of positive feedback. I am always amazed how farm women really do support one another as in the nearly 500 comments there was not a single negative one- go fellow Farm Hers! So with all of that support I wanted to share it with all of you in our farm family and beyond.
Educating people about life on the farm and telling our story is one of the key principals at Carroll Creek Farms. We try to keep our social media updated with what's happening and quick facts. But usually these are the best pictures. The sky is blue, the grass is green, and it pretty much looks as close as we can get to Old MacDonald's place out of a story book.
This picture of me is more genuine. It is not edited (although I was tempted to crop it up to reduce skin), the light isn't great and it's pretty blurry because of the three year old photographer. But beyond those flaws it shows what is real at this farm.
Sometimes in the tornado that is our life here on the farm it feels like my life is a mix of calves, coffee, and cusswords. To support our farming habit both my husband and I have off farm jobs. While mine allows me to be local my husband Adam sells swine genetics so is usually gone about half the weekdays of the month to accomplish his professional goals.
So there are a lot of weeks I am playing single parent while juggling my job at the farmer owned cooperative that I work at in town, doing farm chores at the home and rented farm, taking care of the kiddos, and attending farmers markets / delivering our meat orders or CSA shares for the month. Due to my commitment to our community I also get to also juggle some monthly meetings too. Striking a balance between the farm and the family is always a challenge and I do feel guilt for not providing more undivided attention to my children.
Those who come to our farmers markets know that our son is generally there with us playing in the corn box we set up next to our table playing alongside your children too. There have also been times when my grandma is sitting back behind our table passing out her favorite lamb recipes to our customers. Furthermore my aunt, Kathleen, who helped us get started in this farm, is often there talking up her favorite meat item we sell – pork burgers- and talking about experiences from her decades in farming in Indiana. Essentially there are days working a farmers market that it is more like a family reunion with a side of meat sales.
But maybe all of these things being intertwined are what is what so many find beautiful in this picture. A farmer tends to her herd and her family… sometimes simultaneously. We do what we need to do to give the best care to both. We are a family working to feed families, so on occasion we need to feed ours too.
What I like about the picture is it shows dedication- both to our children and to farming. Parenting and farming are not two separate things and this really shows how they overlap everyday on the family farm. We are trying to tend to our animals in a humane, ethical way and provide them wholesome feedstuffs; but also balance the people in our life by providing them the best nutrition and care possible.
By bringing our children with us on the farm we hope they see us working hard and gain a solid work ethic for the future. We are also giving them responsibilities and hopefully is not only instilling a love of the land and animals but an understanding of commitment and dedication.
We are blessed to live in a place where we are free to pursue our dreams and work hard for any opportunities we might be afforded. Thanks for your support of our small, local, and family farm which literally puts clothes on a baby's back. Even more than that allows us to raise our family in a way that we feel, even though it is chaotic, will produce the greatest quality of life for all the humans and animals on our farm.
-Jess aka Meat Mom / Lady Farmer