Beef Cuts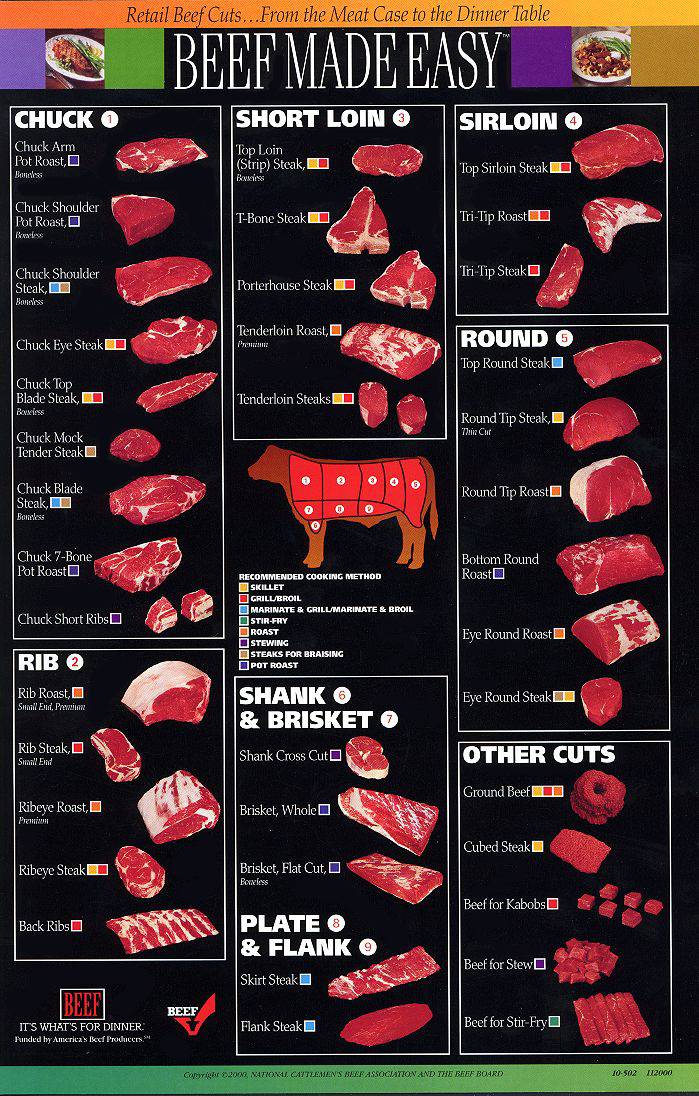 Sales
All sales are final. If you are not happy with your order, please contact us at sales@carrollcreekfarms.com and we will do our best to make it right.
We do not offer the sale of live animals, nor do we allow on-site butchering.
Payments
With whole, half, and quarter animal purchases, you will place a down payment to hold your animal and we will invoice you once the hanging weight is determined by the butcher via the state inspected scales. We accept check, cash, and credit card payment at time of pick up.
Deposits are refundable up until the date of harvest is assigned. If you cancel your order after we send you your harvest date assignment, you forfeit your deposit.
The Meat Retreat also accepts cash, check, and credit card payment.
Picking Up Your Order
We will contact you when your order is ready to arrange a pickup. We will reach out within 48 hours to schedule with you if you have not already reached out to our group.
Privacy Policy
We do not sell, rent or give our email list, customer list or any personal /financial information to anyone. EVER!
Our Guarantee
Carroll Creek Farm meats are raised responsibly, locally, and without the use of antibiotics or hormones. We care for the animals so we raise them in systems that protect the animal but also allow it to live its life in the green grass and sunshine. Our animals are raised in a way that we are proud of and the meat is wholesome for your family.
Thank You!
Your support of purchasing protein from our farm reflects your commitment to both quality meat and sustainable agriculture. Thank you for your support and keeping local farms in the fabric of our community.
Year Round Farmers Market
2nd Street Market
Fridays (11 a.m. - 3 p.m.), Saturdays (9 a.m. - 3 p.m.) and Sundays (11 a.m. - 3 p.m.)
http://www.metroparks.org/places-to-go/2nd-street-market/
Summer Farmers Market
Franklin Ohio Farmers Market
Saturdays 9 a.m. - 1 p.m.
June to September * 2021 Season Ended 09/11/2021
1 Benjamin Franklin Way Franklin, Ohio 45005
Can I buy a live animal from you?
We do not offer the sale of live animals at this time. Nor do we allow on-site butchering.
How is your meat different than the store?
It is fresh and you can taste the difference!
Our small herds allow us to monitor individual animal health and provide a low stress lifestyle for the animal.  Our animals are slaughtered at a small butcher who also takes his time to craft the cuts.  The window from harvest to freezer is short.
Lamb Cuts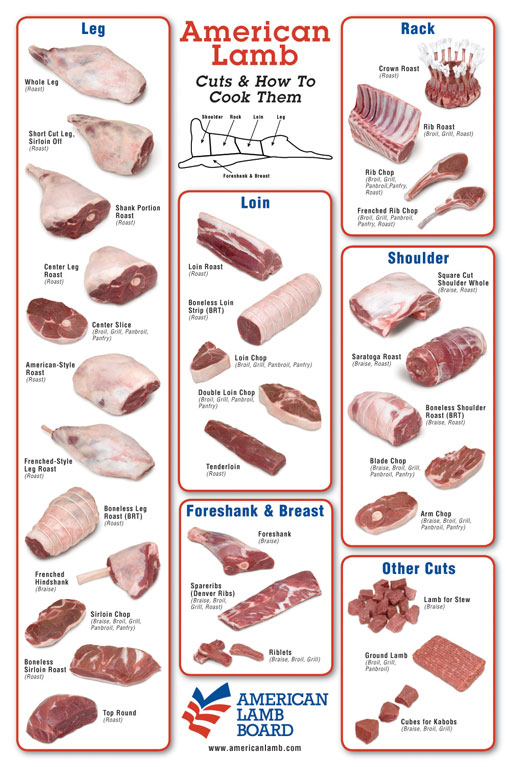 The Farm
Shop our available inventory at our farm retail store.
The Meat Retreat
10045 Brooks Carroll Rd. Waynesville, OH 45068
There are really three weights that you can use when selling an animal; live weight, hanging weight, and finished weight.
Live weight is the weight of the animal when it is on our farm. We do not use this method because the live weight can be vastly different than the amount of meat that is consumable.  It takes into account items like the stomach contents, hides, etc. that you would not actually eat.
Hanging weight is the most widely used in direct sales; it is the most fair for the producer AND the consumer.  This is the weight of the animal's carcass once it has been butchered, and the non edible items have been removed (the hide, stomach, hooves, etc.). The weight is provided to us from the butcher using their USDA inspected scale readings.  The hanging weight does still include the bones of the animal and organ meat.
Finished weight is the actual number of pounds after the carcass is cut and packaged.  This method is rarely used in direct sales because the meat you actually take home can vary depending on the way you have your animal cut and whether you choose to keep the organ meat.
Pork Cuts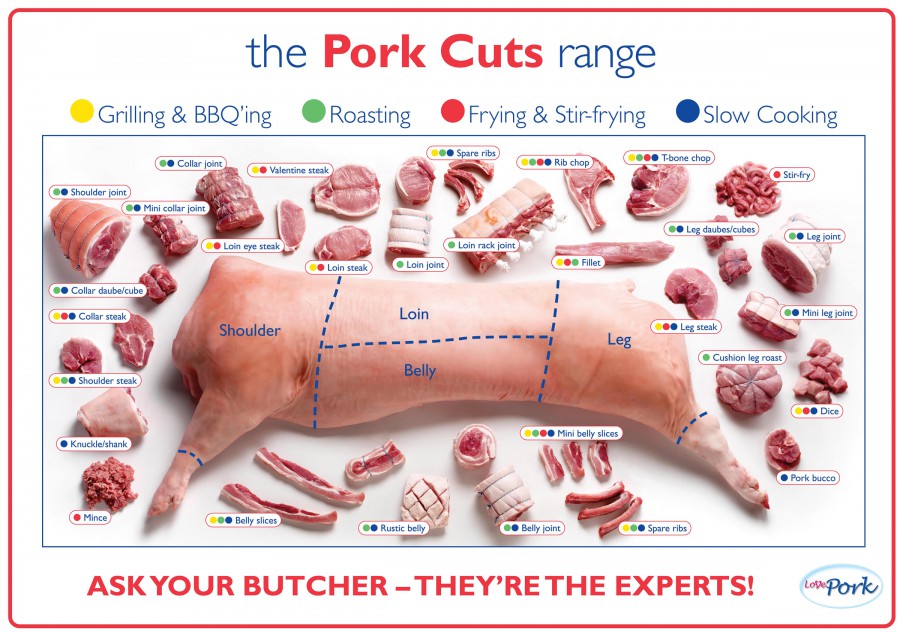 Market Wagon
Home delivery is available in southwest Ohio through the use of Market Wagon.  Use the following link to our available product listings: 
Cincinnati and Dayton - Thursday Delivery
When can I pick up my wholesale animal?  
Once your animal has been harvested, we will invoice you for the remainder of your balance.  The invoice will include further instructions for pick up.
Restaurants
Enjoy our fine meats prepared by local food champion chefs at these fine restaurants:
Trolley Stop
In the Oregon District
530 East 5th Street
Dayton, OH 45402 
https://trolleystopdayton.com/
Pickles and Bones Barbecue
1149 OH-131 | Milford, Ohio 45150
 http://www.picklesandbones.com/
The Golden Lamb 
27 S Broadway St | Lebanon, Ohio 45036
Partial to Pie Bakery
200 Shroyer Rd.
Dayton Ohio
45419
Can I order meats by the individual cut from you?
Our individual cuts are not available for online order.
You can purchase individual cuts year round at our farm store or at any of our retail partners.  Check out our Where to Buy page for more details.
Retail Locations
We are stocked in the freezers in the following retail locations:
Blooms and Berries 
9669 S State Route 48 | Loveland, OH 45140
inventory - beef, pork, chicken 
https://www.bloomsandberries.com/
The Wellness Lounge 
31 E. Mulberry St | Lebanon, OH 45036
inventory - beef, pork, chicken, eggs
https://thewellnessloungelebanon.com/
RoseBud's Ranch and Garden
122 W High St. Piqua, Ohio
inventory - beef, pork, chicken
Do I have to pay online for my meat?
No.
We do accept cash, credit/debit card, and check at the Meat Retreat for individual cuts.
Wholesale deposits and Thanksgiving Turkey deposits must be made online using our order process.  This provides you a confirmation of order, as well as a date stamp for our records.  However, you can pay the balance due with cash or check in lieu of a credit/debit card. 
How should I cook my meat?
Our animals are pasture raised; this means they will have less fat content than feedlot animals.  With less marbling, you will want to make sure your meat reaches the recommended temperatures to prevent foodborne illnesses, but then quickly remove it from the heat source and let it rest.  It is easier to overcook our meats.
The USDA recommends beef reach 145 degrees F with a three minute rest time.  It recommends pork reach 145 degrees F with a three minute rest time.  All ground meats should be cooked to 160 degrees F, no rest time needed.  Poultry, including ground, should be cooked to 165 degrees F.
How often are eggs stocked?
Our ladies are laying daily; we refill the cooler accordingly.
What if we only eat a few cuts of meat?
Our farm store is regularly stocked with a variety of cuts; this is the easiest way to stock your freezer with your favorite cuts.
When can I come to the farm?
Our farm store is open seven days a week from 9 AM to 7 PM.  We have goats you can feed and chickens to cluck at when you stop in.  
We do not offer farm tours or field trips at this time.