We sell our meat by the hanging weight.
There are really three weights that you can use when selling an animal. The first is "live weight" which is the weight of the animal when it is on our farm. We do not use this method because the live weight can be vastly different than the amount of meat that you would actually receive and it is weighing things like the stomach contents and hides that you would not actually eat.
The next way is "hanging weight" which is what Carroll Creek Farms uses to sell our meat. Hanging weight is provided to us from the butcher off of their USDA inspected scale readings. This is the weight of the animals carcass once it has been butchered, the hide has been removed, the stomach, hooves, blood, and other non edible items have been removed. For example a 1200 pound steer would have an estimated hanging weight of 720 pounds. The hanging weight does still include the bones of the animal.
The final way to sell meat is by "take home weight" or actual pounds of meat. We do not sell meat this way because the amount of meat you actually take home can vary depending on the way you have your animal cut to your specifications. Typically you would lose another 20-30% depending on species and cut types. Those are lost in two ways both from the dry aging process on beef where some water evaporates and also from bones that will be trimmed away from the meat. If you get all boneless cuts you will lose more on take home weight than if you get some bone in cuts.
If you have any additional questions please call as we can counsel you further and provide you with a packet you through the wholesale meat buying buying process.
Beef Cuts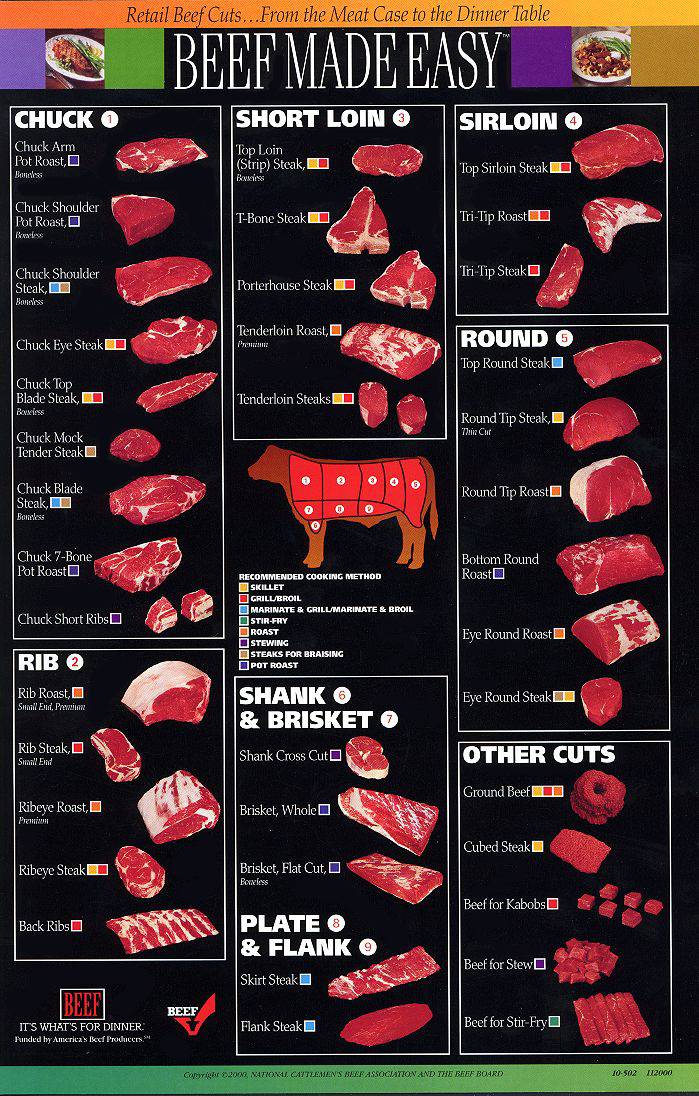 Payments –  With whole, half, and quarter animal purchases you will put a down payment to hold your animal and we will settle up once the hanging weight is determined by the butcher via the state inspected scales. We accept check, cash, and credit card payment at time of pick up. The Meat Retreat also accepts cash, check, and credit card payment. 
Picking Up Your Order – When you feel free to text or email to arrange a pickup. We will reach out within 48 hours to schedule with you if you have not already reached out to our group.
Privacy Policy – We do not sell, rent or give our email list, customer list or any personal /financial information to anyone. EVER!
Our Guarantee – Carroll Creek Farm meats are raised responsibly, locally, and without the use of antibiotics or hormones. We care for the animals so raise them in systems that protect the animal but also allow it to live it's life in the green grass and sunshine. Our animals are raised in a way that we are proud of and the meat is wholesome for your family.
Thank You! – Your membership to Carroll Creek Farms Meat CSA and or support via buying individual cuts reflects your commitment to both quality meat and sustainable agriculture, thank you for your support and keeping local farms in the fabric of our community.
Year Round Farmers Market
2nd Street Market
Fridays (11 a.m. - 3 p.m.), Saturdays (8 a.m. - 3 p.m.) and Sundays (11 a.m. - 3 p.m.)
http://www.metroparks.org/places-to-go/2nd-street-market/
Summer Farmers Market
Franklin Ohio Farmers Market
Saturdays 9 a.m. - 1 p.m.
June to September * 2021 Season Ended 09/11/2021
1 Benjamin Franklin Way Franklin, Ohio 45005
Can I order meats by the individual cut from you?
Yes!
We have individual items for purchase at our Meat Retreat on the farm and also in our online farmstand where you can order ahead of time and then pick up. 
At our retail partners (see where to buy) page you can also buy individual cuts of meat. 
If you have questions on pricing - we do not put our retail price sheet online but can email it to you by request. You can select what would you like to purchase individually. You can order on the contact us form on the website here or email directly at sales@carrollcreekfarms.com
Lamb Cuts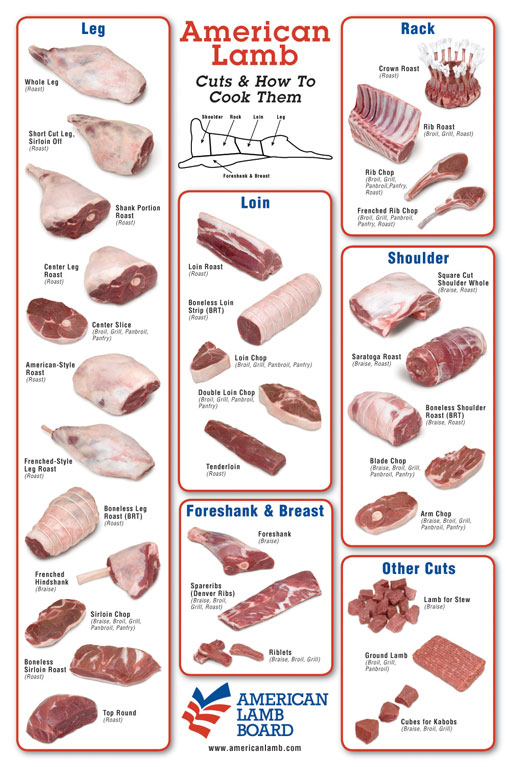 The Farm
Pick up your CSA allotment, shop our available inventory, or arrange a preorder pick at our farm retail store.  
The Meat Retreat
10045 Brooks Carroll Rd. Waynesville, OH 45068
Do I have to pay online for my meat?
No.
We do accept cash, credit, and check at the Meat Retreat for individual cuts and the CSA.
In regards to wholesale purchases and Thanksgiving turkeys we would require that they are paid for online so that we can keep the paypal receipt and your contact info in order to keep a record of the order and ensure that we have a timestamp to put in order for animals to be harvested.
Pork Cuts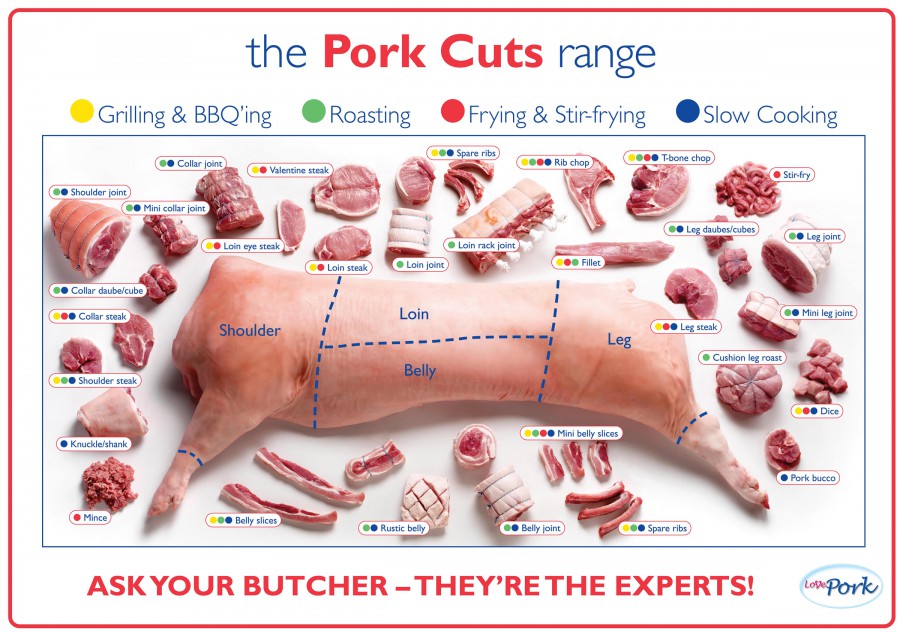 How is your meat different than the store?
There is absolutely no comparison! Our animals live humanely and outdoors when the weather permits near you and they get to enjoy being a animal. This lower stress lifestyle as well as the individual attention they get from us daily to help them grow and thrive. Our wholesome meats are slaughtered at a few small, local butcher who also takes his time to craft the cuts. It is fresh and you can taste the difference!
Restaurants
Enjoy our fine meats prepared by local food champion chefs at these fine restaurants:
Trolley Stop
In the Oregon District
530 East 5th Street
Dayton, OH 45402 
https://trolleystopdayton.com/
Pickles and Bones Barbecue
1149 OH-131 | Milford, Ohio 45150
 http://www.picklesandbones.com/
The Golden Lamb 
27 S Broadway St | Lebanon, Ohio 45036
Partial to Pie Bakery
200 Shroyer Rd.
Dayton Ohio
45419
How many times will I be able to pickup eggs?
We have eggs available at The Meat Retreat, The Wellness Lounge and 2nd Street Market
Retail Locations
We are stocked in the freezers in the following retail locations:
Blooms and Berries 
9669 S State Route 48 | Loveland, OH 45140
inventory - beef, pork, chicken 
https://www.bloomsandberries.com/
The Wellness Lounge 
31 E. Mulberry St | Lebanon, OH 45036
inventory - beef, pork, chicken, eggs
https://thewellnessloungelebanon.com/
RoseBud's Ranch and Garden
122 W High St. Piqua, Ohio
inventory - beef, pork, chicken
How should I cook my meat?
Our animals are all being fed a low fat diet based around pasture. When the animals are harvested their muscle has less intramusclar fat or marbling which are the white flecks you see in cuts of meat. Because there is less gelatinous fat in the middle of your steaks that means that it will get tough if the meat is overcooked. We recommend medium rare to medium cooking levels but be sure to ensure that your meat does get to the recommended 145 degrees F to prevent any foodbourne illnesses from occurring. We will periodically post recipes as well on our blog but if you remember one thing just do not over cook :)
What if I only want one kind of meat?
Maybe you only eat white meat like chicken. Or perhaps you have a bunch of picky little eaters that will only eat egg sandwiches every morning. If you would only like one specific type of meat rather than our usual CSA mixed share that is fine too. If you go to our online farmstand you will see that you can select the type of meat you would like in bulk and purchase it there. We will take the animal to the butcher for you and have it cut to your exact specifications.
What meat is going to be in my monthly share?
Each month, meat CSA members have the opportunity to enjoy the finest selection sustainable local meat available. Meat shares feature a range of cuts that will differ each month.  Meat share contents will vary depending upon the monthly harvest but will be a few cuts from each species. There will always be a dozen eggs for free with your 10 and 20 pound share.
If you do not like one type of meat (ie - Lamb or Pork) you can simply ask to not have it included in your share moving forward if you have tried something you don't prefer to eat.
When can I come to the farm?
As much as we love our customers to experience the farm we do care for our animals first and foremost. We do allow farm visits and CSA / meat order pickups at the farm but we ask that you do not visit other farms at least two days prior to coming to ours to protect our animals health. We love to show people how we raise our animals and also teach people about agriculture so just give us a call to see the farm. Please do call ahead so that we can work with you to give you the best trip possible!
You know what is great about a small farm? That we are sustainable, our animals are cared for as individuals, and they are eating natural feedstuffs.  The downside is we only have a limited number of animals so we may from time to time sell out of a specific type of meat or not have it available as soon as you need it. 
The CSA has a monthly date posted which is always consistent (last Saturday of the month generally) however if you do order a bulk animal and need it at specific time please call before paying the deposit to ensure we can meet your needs.
Where do I pick up my share?
Pickups can be prearranged at any of the markets we attend (listed below).
Home Farm - 10045 Brooks Carroll Rd. Waynesville, OH 45068
Year Round 
2nd Street Market - Saturdays 8:00 a.m. - 3 p.m.
http://www.metroparks.org/places-to-go/2nd-street-market/
Weekly Summer Markets:
Franklin Ohio Farmers Market
Saturdays 9:00 AM - 1 PM
June to September
1 Benjamin Franklin Way Franklin, Ohio 45005